Manual wheelchairs are an excellent option for most users, offering a variety of benefits; however, one downside is that they require significant physical effort and upper body strength to self-propel. In contrast, electric powered wheelchairs are designed to provide a more comfortable and efficient experience for the user, providing better maneuverability and control over the wheelchair's movements.
Another significant benefit of electric wheelchairs is that they are more versatile than manual wheelchairs. Electric wheelchairs can tackle a range of terrains, including uphill slopes, uneven surfaces, and rough terrain, which makes them ideal for outdoor use.
Unfortunately, high-spec electric wheelchairs are sometimes unattainable due to their enhanced high-cost specifications. Nevertheless, it is possible to transform your present manual wheelchair into a powered version using a power attachment while maintaining the ability to switch back to a manual wheelchair if necessary.
There are three options for converting your manual wheelchair into a powered chair: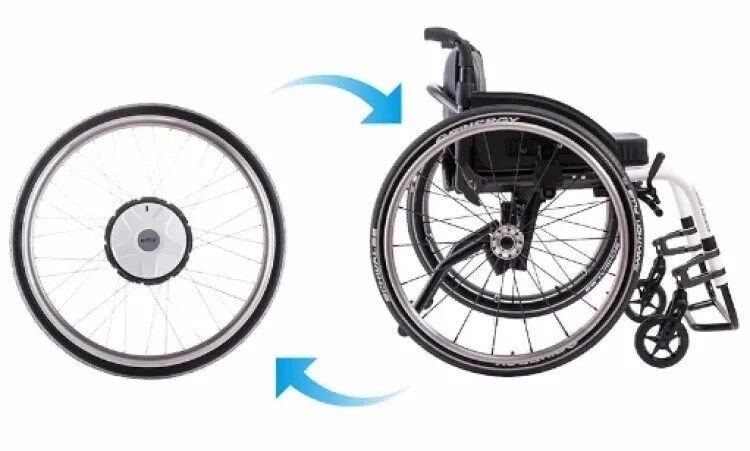 Remove the standard wheels and replace them with motorised ones such as the Alber E-Fix E35.
Keep the existing wheels but attach a rear motor and battery such as Benoit Systemes Light Drive 2.1 that uses roller friction to replace the job of pushing on the push rims.
Keep the existing wheels but add a structure underneath the wheelchair that holds a motor, battery, and a set of wheels to propel the wheelchair independently of the regular manual wheels. These units are on the heavy side though, so are not a popular option for a wheelchair that will be transported regularly.
If you plan to add a power attachment to your manual folding or rigid wheelchair, you must first ensure that it's a good-quality model with a strong frame as you will be using your wheelchair in a way that's significantly different than its intended purpose. In addition to moving at higher speeds and covering a larger distance, you will be manoeuvring in a different way to when you are manually propelling yourself which may result in more knocks and bumps. You will also be increasing the amount of wear and tear on both the wheels and the chair.
Does a power attachment work in a similar way to a powerchair?
From a user perspective, a manual wheelchair with a power-attachment manoeuvres in a similar way to a powerchair with no significant difference.
What are the main benefits of using a power attachment?
You have the flexibility to switch between a manual wheelchair and a powerchair as needed without having to purchase two different chairs.
The power assist equipment is attached to the manual wheelchair with brackets meaning that it can be removed for easy transportation while travelling. The brackets do add some additional weight to the wheelchair though, so it will be less lightweight.
When used in combination with a front wheel such as the RGK Frontwheel, it's an effective way of converting the manual wheelchair to an 'off-road' powerchair.
What other types of power attachments are available?
If you're not looking to fully convert your manual wheelchair but need a power attachment that helps with self-propulsion, there are a range of products available for this. The Alber E-Motion for example works in conjunction with being self-propelled, sensing the forward movement and providing an extra boost to help you reach your destination with ease.
Is a power attachment the same as a powerpack?
No. A powerpack is a removable battery pack that is designed to attach to an attendant propelled wheelchair to assist with propulsion.
Is a power attachment a long-term solution?
You can choose to use a power attachment with your manual wheelchair on a long-term basis, however, once you have committed to a powered chair on a full-time basis, we usually recommend making the switch to a powerchair as they are specifically built for this purpose.
Maintenance for your manual wheelchair
If you are using a power attachment fulltime or for long periods, we recommend a maintenance schedule inline with a standard powerchair. Regular checks and repairs will ensure your chair remains in peak working condition.

Your power attachment will also require scheduled maintenance checks, which are usually carried out directly through the manufacturer. While the equipment is being tested and repaired, the manufacturer may provide loan equipment to ensure you remain mobile.
Not sure which option is best for your requirements?
Bromakin is a manufacturer and distributor of mobility equipment including manual and electric wheelchairs as well a variety of front, rear, and wheel power attachments. Contact us today on 01509 217569 to arrange a no obligation consultation at our Loughborough showroom where you can discuss your individual requirements and try a range of products before you buy.